Reading Time: 5 minutes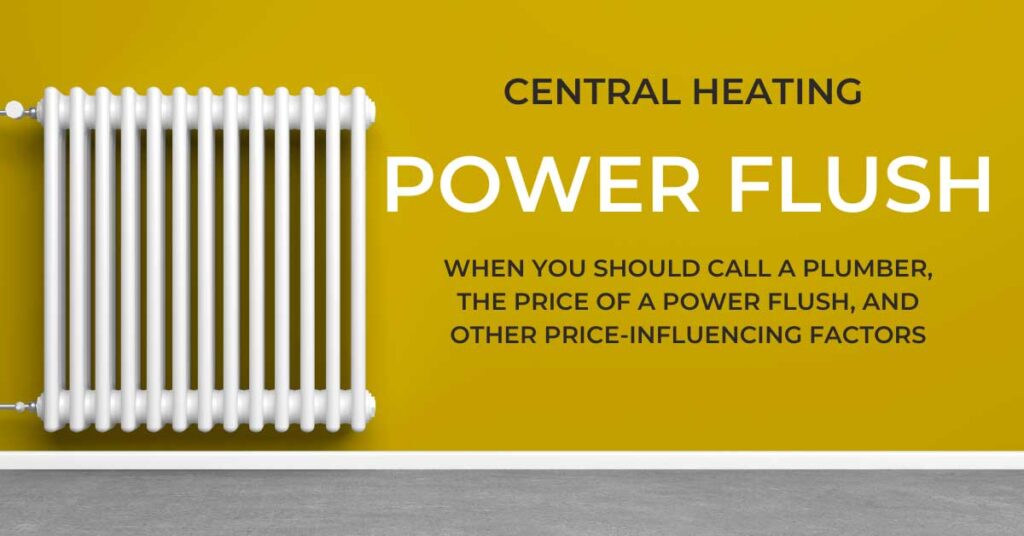 Your pipes and radiators deteriorate over time, and the debris ends up in the water that runs through your boiler.
A power flush is a thorough cleaning of your boiler and heating system. It improves the water quality by removing sludge, rust, and other residues from your system.
Poor water quality and buildup can cause the boiler's components to break down, resulting in ineffective heating systems.
This article will discuss when you should call a plumber to power flush your central heating system, the price of a power flush, and other price-influencing factors.

What Is Power Flushing?
Power flushing is a cleaning method that eliminates sludge, rust, and other debris from your central heating system.
In extreme cases, a power flush may be the only option for removing these contaminants, which, if not removed, can have a damaging effect on a heating system's efficiency. The water in your pipes, boiler, and radiators deposits undesirable byproducts, such as rust, over time. This rust, along with other dirt and debris, makes a nasty, mud-like substance that professionals call "sludge."
Sludge in your heating system can result in corrosion and blockages, which will cause inefficiency and/or system failure. In extreme situations, it may cause enough damage that a brand-new boiler is required.
Signs Your Heating System Needs A Power Flush
From bacterial growth to incorrect installation, several things can cause contamination in your central heating system.
While it's not always possible to see the problems caused by blockages, you can tell when your system is heavily contaminated by looking out for the following signs:
Radiators that require constant bleeding
Brown or black water when radiators are bled (or no water coming out at all)
Cold strips at the bottom of your radiators
Excessive noise coming from your radiators or boiler
Leaking radiators and pipework
Your boiler frequently breaking down or needs to be restarted
Radiators that struggle to heat up
Some radiators take longer to heat up than others
Cold radiators but hot pipes
Your attic header tank overflowing
Pump failure
You can also try attaching a magnet to copper pipework, as this will indicate whether any iron sludge has leaked into it.

Cost Of Power Flushing
The cost of power flushing varies based on a variety of factors.
Typically, the cost is directly related to the number of radiators on your property and may fluctuate between £300 and £500.
At Atapos Heating, the price for power flushing is agreed upon upfront regardless of the complexity our plumber may face during the job. You must keep in mind, though, that power flushing does not ensure success. Radiator or boiler replacement may be the only option if your radiators are severely clogged or your heating system is old.

Factors Influencing the Price of a Power Flush
1. Number of Radiators
The price of a power flushing service is related to the number of radiators you have. The greater the number of radiators that require power flushing, the greater the cost.
2. Type of the Heating System
Depending on the type of heating system you have, the cost of power flushing will vary.
A combi boiler is one of the most common types in the United Kingdom and is seen as the cheapest heating system for power flushing.
Regular heating (heat-only) systems are the most prevalent in the average UK residence. The regular heating system is considered the most expensive heating system for power flushing.
Pressurised (system-only) boilers can be extremely costly and must be inspected frequently. However, power flushing them is significantly less expensive than regular heating systems.
3. Filter Unit Additions
A magnetic system filter (boiler protection kit) is typically recommended because it keeps the heating system safe even after a power flush. If the customer has their own filter, Atapos Heating will install it for free. Otherwise, the filter and installation cost between £80 and £150.
4. Does Your Boiler Need Replacing?
If a power flush doesn't fix the problem, you might have to pay for a boiler repair, which typically costs £70.
If your boiler is beyond repair, you might have to shell out cash for a new boiler and its installation.
5. Radiator Replacement
If your radiators are seriously clogged up, replacement may be required. Depending on how many radiators you have in your house, this might be a less expensive option, though the average price is around £190 per radiator.
How Long Does It Take to Power Flush your Radiators?
Power flushing typically takes 4-5 hours for a two-bedroom house, 5-6 hours for a three-bedroom house, 6-7 hours for a four-bedroom house, or for a five-bedroom house, a full working day.
However, the power flushing will take a different amount of time depending on the type of central heating system, the number of workers hired, and how easy it is to get to the site.

Can I Power Flush My Central Heating Myself?
Power flushing is typically left to professional plumbers because it is a time-consuming job that necessitates the use of expensive equipment such as a power flushing machine, which is used to decontaminate your central heating system by removing sludge and debris. At Atapos Heating, we use cutting-edge technology to power flush your heating system in the shortest amount of time possible.
Conclusion
Power flushing is a low-cost way to clear a clog in your heating system while also increasing its efficiency.
It not only reduces power consumption but also increases the system's lifespan.
To protect your heating system from damage, have power flushing performed every 5-6 years as a preventative measure for overall maintenance.
If you'd like further advice or information about our power flushing service, call Atapos Heating at 07583 894 714.