Reading Time: 3 minutes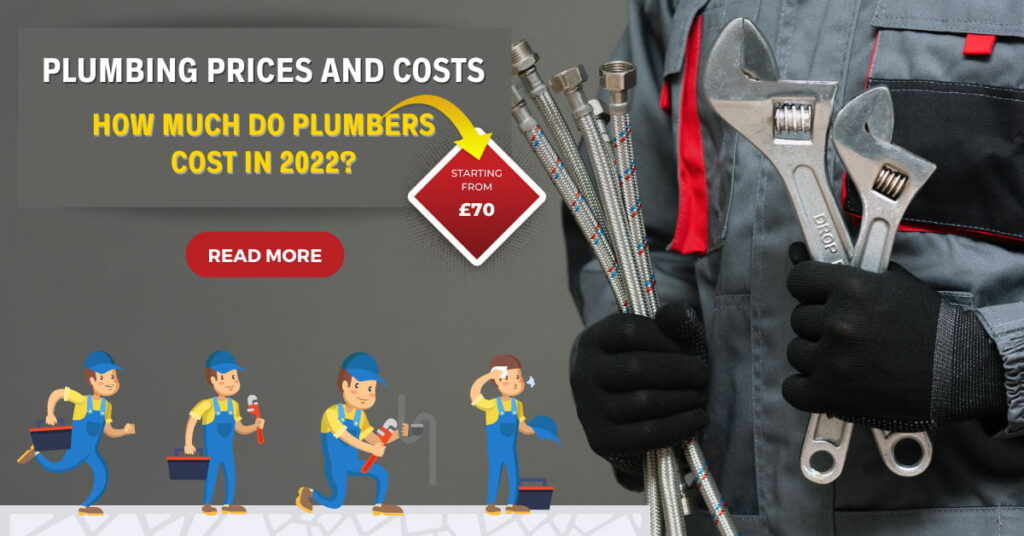 No one ever wishes to call an emergency plumber, but occasionally issues arise that can only be fixed by a professional plumbing company.
Hiring a professional plumber is much less expensive than the damage caused by not taking care of a problem. They are highly skilled professionals who can deal with a range of issues, such as clearing clogged drains or toilets, repairing broken fixtures, replacing dangerous water heaters, and fixing leaks.
The cost of hiring a plumber in East Berkshire and South Buckinghamshire varies depending on the kind of job, how long it will take, and whether or not it's an emergency, but it's always beneficial to understand the plumbing price range before posting a job.
Atapos Heating boasts the lowest hourly rate in the region of £70+VAT. If the work will take longer than one hour, the price is negotiated beforehand, which means the total price, including materials, is given for the entire job, so our clients know in advance how much the plumbing job will cost.

When speed and urgency are taken into account, and the emergency occurs after 10 p.m, this cost increases, with emergency call-out fees averaging between £100 and £200 per hour. This demonstrates the value of maintaining good housekeeping, keeping an eye out for any minor issues, and taking care of them before they escalate into much more complex issues to address.
Now that we are aware of the plumbing hourly rate for both planned and emergency call-outs, let's look at some common jobs a plumber might do for you around the house, as well as the costs associated with them.
We spoke with some of Atapos Heating's experienced plumbers to find out what you need to know.
Atapos Heating Plumber pricelist 2023
| | | |
| --- | --- | --- |
| | | |
| | | |
| Repair a burst or leaking pipe | | |
| | | |
| | | |
| | | |
| Shower mixer installation | | |
| | | |
| | | |
| Repairing a leaking radiator | | |
| | | |
| | | |
| | | |
| | | |
| Plumb washing machine/dishwasher | | |
| | | |
| | | |
| | | |
| | | |
| | | |
| | | |
| | | |
| | | |
Toilet Unblocking
A plumber can clear a toilet blockage as long as it is above ground. In contrast, drainage experts clear out underground obstructions. A toilet blockage typically requires one hour to clear, so the cost is £70.
Repair a Burst or Leaking Pipe
A leaky pipe can result in problems with boiler pressure and even have an impact on your central heating system, in addition to possibly harming your walls, wallpaper, and other home furnishings. The base labour cost for this fix, excluding material costs is £70 and takes 30 minutes to two hours to complete.
Tap Replacing
If you've recently renovated your kitchen or bathroom, you may need to replace an old tap or simply relocate an existing tap. The cheapest taps range from £15 to £70, while the most expensive taps range from £70 to £300. In general, they all cost around £70 to install.
Drain Unblocking
Blockages happen frequently, and our plumbers at Atapos Heating are accustomed to handling the less pleasant aspects of their work. Even though it is possible to unclog a drain on your own, some clogs are more difficult to remove than others, so if your DIY efforts fall short, it might be time to call in some help. Depending on the severity of the problem, an unblocked drain will cost you £70 and take an hour to complete.
Toilet Installation
The Building Inspector must inspect each fixture, fitting, and connection to the sewage system, or a licenced plumber must install them. All fixtures, fittings, and appliances used with mains water must comply with the Water Supply (Water Fittings) Regulations of 1999. As a result, it is wise to hire a plumber rather than attempt to do it yourself. Depending on the complexity of the unit and the actual amount of time required, the cost is approximately £110 excluding materials.
Shower Mixer and Bathtub Installation
Staying in the bathroom, installing a new shower mixer will cost £80 and take one hour. On the other hand, installing a new bathtub will also cost £80 but take one to two hours to complete.

Radiator Installation
A radiator should be replaced for a variety of reasons, including rusting, corrosion, inefficiency, leakage, damage, and worn-out components. A homeowner can't really do much to stop their radiators from breaking or needing to be replaced. Fortunately, radiator installation costs only £190 and takes two to three hours to complete.
Repairing a Leaking Radiator
Simply tightening a connector or adding a sealing compound to the water in the central heating system can fix a leaky radiator. Any more serious issues call for a new radiator. Therefore, you should budget no more than £130 for leak repair.
Replace a Hot Water Tank
A broken hot water tank will cause obvious problems in your home, indicating that it should be repaired or replaced. To keep your hot water tank in good condition, drain it partially on a regular basis to remove any accumulated debris or silt. A hot water tank replacement is a more involved task that typically requires the majority of a day to complete. As a result, the price for replacing a hot water tank is £350 and takes 5 to 8 hours.
Replace Pipework
This is, as might be expected, the most expensive task on the list. However, the cost of this service is determined by the length and type of pipes.

In a nutshell, the final price will be calculated based on time, labour, materials, and VAT.
Professional and affordable plumbing services by Atapos Heating
If you are looking for a qualified plumber, call Atapos Heating at 07583 894 714 to schedule an appointment and get a free, no-obligation quote today!