Plumbing Prices & Rates
Locally Lowest Plumber Rates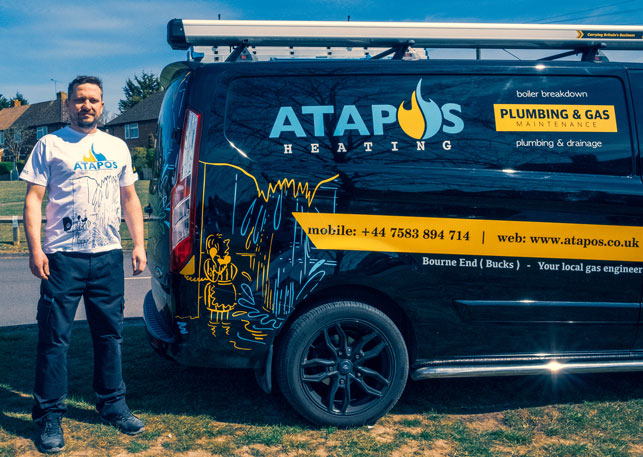 At Atapos Heating, we're committed to offering competitive hourly rates within East Berkshire and South Buckinghamshire regions. Understanding that every plumbing job is unique, we strive to provide clear and transparent pricing. For jobs extending beyond an hour, we always discuss the price in advance, ensuring you receive a comprehensive quote for the entire job, inclusive of materials. This proactive approach ensures that our clients are fully informed about the cost implications before any work begins.
While the cost of hiring a plumber can vary depending on the nature and urgency of the job, and the duration required, we believe in offering some indicative pricing for common services to help you gauge our rates:
Boiler Service: Starting from £70 + VAT
Landlord Gas Safety Check: Priced at £70 + VAT
These indicative prices are for standard services and can vary based on specific job requirements. We recommend contacting us at 07583894714 for a more accurate quote tailored to your individual needs.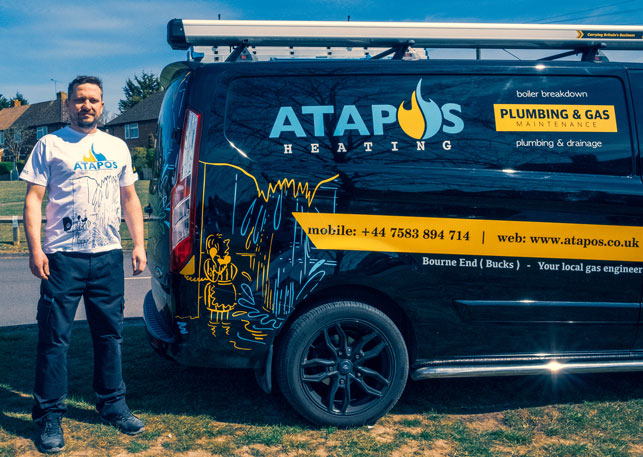 Atapos Heating Plumber pricelist 2023
Toilet Unblocking
Our plumbers can clear a toilet blockage as long as it is above ground, while drainage experts are available for underground obstructions. Generally, clearing a toilet blockage requires about one hour, and we provide a competitive rate for this service.
Repair a Burst or Leaking Pipe
A leaky pipe can cause problems with boiler pressure, impact your central heating system, and potentially damage your walls, wallpaper, and other home furnishings. We offer a favourable base labour rate for this fix, excluding material costs. The task typically takes anywhere from 30 minutes to two hours to complete.
Tap Replacing
If you've recently renovated your kitchen or bathroom, you may need to replace an old tap or simply relocate an existing one. The price range for taps varies widely, and installation costs are quite reasonable.
Drain Unblocking
Blockages happen frequently, and our plumbers at Atapos Heating are well-versed in handling such situations. While it might be possible to unclog a drain on your own, some blockages are more stubborn, calling for professional assistance. The cost and time required for unblocking a drain depend on the severity of the blockage.

Toilet Installation
Toilet installation service is meticulous as each fixture, fitting, and connection to the sewage system requires inspection by the Building Inspector or installation by a licensed plumber. All fixtures, fittings, and appliances used with mains water must comply with the Water Supply (Water Fittings) Regulations of 1999. Thus, hiring a plumber is a wise choice, with costs varying based on the complexity of the unit and time required, excluding materials.
Shower Mixer and Bathtub Installation
Moving onto the bathroom, installing a new shower mixer or a new bathtub are services we offer at reasonable rates, with the duration and costs differing slightly between the two.
Radiator Installation
Radiator replacements may be needed due to rusting, corrosion, inefficiency, leakage, damage, or worn-out components. The costs for radiator installation are competitive and the task typically takes two to three hours to complete.

Repairing a Leaking Radiator
Fixing a leaky radiator may involve tightening a connector or adding a sealing compound to the water in the central heating system. More serious issues might necessitate a new radiator, with cost estimates provided beforehand.
Replace a Hot Water Tank
A malfunctioning hot water tank can cause notable issues in your home. Maintenance such as partial draining to remove debris is advisable, while replacement is a more complex task, with costs varying based on the specifics of the job.
Replace Pipework
As anticipated, pipework replacement is one of the more costly plumbing tasks, with costs determined by the length and type of pipes involved.
Boiler Installation
The cost for a new Vaillant combi boiler replacement includes installation, a magnetic filter, a limescale filter, a smart thermostat, a powerflush, and labour, with the boiler coming with a 10-year warranty from the manufacturer. We also offer installation services for various other types of boilers.
Powerflushing
Powerflushing your heating system extends its life, lowers bills, and reduces breakdowns. The process, which benefits from the use of a thermal camera to show improvement in radiator heat output, varies in duration and cost based on the size and number of radiators in the home.
Underfloor Heating
Underfloor heating is a highly energy-efficient choice, with installation possible under almost any type of flooring. A precise cost and time estimate can be provided following a site visit by one of our specialists.
Emergency Plumber

At Atapos Heating, we understand the urgency when you need an emergency plumber. Our team is available 24/7 for emergency same-day repairs at a competitive rate. If the problem extends beyond a single day, a separate rate applies.

In a nutshell, the final price will be calculated based on time, labour, materials, and VAT.
If you are looking for a qualified plumber, call Atapos Heating at 07583894714 to schedule an appointment and get a free, no-obligation quote today!
Our Plumbers Service The Following Areas
Only the Highest Quality Work