Reading Time: 5 minutes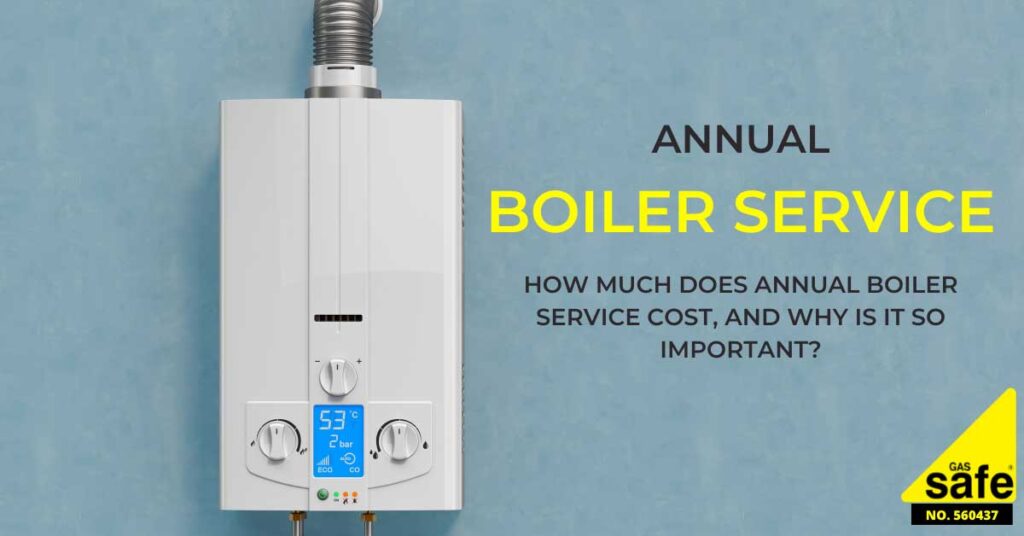 Regular boiler maintenance is more important than you may realise since your boiler helps to keep your home running smoothly by providing a warm, comfortable environment and hot water.
An annual boiler service is much less expensive than repairing serious breakages; if you service your boiler on a regular basis, a qualified engineer may detect your boiler's faults at an early stage, allowing it to be repaired for a significantly lower price. So, how important is an annual boiler service?
Those who already got an annual boiler service are well aware of the benefits, but for those who don't, here are the top 6 reasons why you should get an annual boiler service.

6 Key Reasons For Annual Boiler Service
1. Safety
Because it cannot be smelled or seen, carbon monoxide is a poisonous gas that is often referred to as the "invisible killer." In the UK, carbon monoxide poisoning results in a large number of fatalities and hospitalisations, so it should be taken seriously. A boiler service will check to see if your boiler is at risk for gas leaks and, if not already installed, will install a carbon monoxide monitor on your property.
Furthermore, some defective boilers may overheat to dangerous levels, leaving your heating system and pipes scalding to the touch. This issue can be resolved by a service, which will make everything much safer overall. A boiler service can make even minor adjustments to make something more bearable for daily use, like a hot tap that is too warm.
2. Save Money
Make sure your boiler isn't the cause of the issue if you seem to be paying a lot for your gas heating before looking for other providers. Poorly functioning boilers don't function as well as they should, using more energy to generate the same amount of heat as a boiler operating at its best. Our qualified engineers from Atapos Heating can restore your boiler to good working order, or install a new boiler if it is beyond repair. This will lower your energy costs in the future and lower your annual gas bills.
3. Avoid Breakdowns
The benefit of annual boiler servicing may be that qualified engineers are able to identify potential problems before they become serious ones. This means that you can pay less to have the problem fixed before it becomes a major issue, which can help you save money rather than having to pay a lot of money for an emergency repair. By keeping your boiler in good repair on a regular basis, you can improve performance and increase the efficiency of your heating and water pressure.
The following are some of the most common boiler problems that can be easily found and fixed with annual boiler maintenance: 
Radiator faults
Low pressure
Leaking
Banging or whistling noises
4. Valid Warranty
Most boiler manufacturers require annual boiler maintenance in order for the warranty to remain valid. If you fail to perform an annual boiler service and your boiler breaks down within two years, you will not be eligible for a free repair because you did not comply with the manufacturer's requirement. This could be a very expensive mistake.
5. Help The Environment
A boiler that is regularly serviced runs much more efficiently and uses less fuel, which helps to reduce the carbon footprint.
6. Landlords
This is only relevant if you are a landlord. According to the Landlord and Tenant Act of 1985, all landlords must perform an annual gas safety check on their tenanted property, which includes the boiler and all gas appliances. Tenants must be given copies of certificates and documentation at the start of their tenancy. Having your boiler serviced is optional when you own your home, but it is required in rental properties.

How Much Does a Boiler Service Cost?
The price of boiler service at Atapos Heating is £70 regardless of the boiler type. That is to say, it does not matter whether you have a combi or heat-only boiler, the price stays the same.
This price does not include the cost of any extra repairs that our engineers may need to do if they find a fault that needs fixing.

How Often Should I Have My Boiler Serviced?
All boilers should be serviced every 12 months.
A boiler service is the most reliable, efficient, and safe way to keep your heating system running. An annual boiler service is also required to keep the warranty valid. If you fail to service your boiler, it will no longer be covered by a warranty.

What Does a Boiler Service Include?
Our plumbing and heating engineers perform the following with each boiler service:
Check the gas pressure to ensure that the boiler is operating at the appropriate pressure.
Run a flue test to make sure there aren't any dangerous boiler emissions.
Make sure the controls on your boiler are operating properly.
Verify that you understand how to operate your boiler safely.
Visually inspect the boiler to check for leaks or corroded components.
Carefully conducted all tests; if we discover any issues, we are knowledgeable enough to suggest your next steps and are always available to provide advice and pointers.

Book a Boiler Service
If you require annual boiler service, please do not hesitate to contact us at 07583 894 714. All Atapos Heating heating and gas engineers are Gas Safe registered.
We are a family-run business from Bourne End with over 19 years of experience in boiler installing, boiler repairing, boiler servicing and all plumbing & heating services.